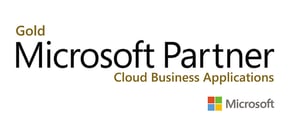 This is the highest form of recognition awarded by Microsoft to their partners for demonstrating proven expertise in quality cloud solutions in specialized areas of business.
A Gold Cloud Business Applications competency, awarded by Microsoft Partner Network, allows us to show our skills and exceptional knowledge of Microsoft Power Platform & Microsoft Dynamics 365 to meet customer needs in sales, marketing, customer service, and field service using these tools and services.
"This certification endorses Definity First for our latest technical skills. It is a testament to the fact that we use quality solutions to serve our customers and offer other benefits that support the company's strategic business and technical goals. The competence award definitely adds to our portfolio that showcases our growing expertise to customers," says Mauricio Durán, President at Definity First.
Working side by side with Microsoft
We are a leading Microsoft Partner and have been recognized by Microsoft for our strong expertise in several areas. This award shows the outstanding dedication our experts have shown in the design and implementation of CRM solutions.
As one of the top-rated Microsoft Partners worldwide, the Gold Competency has given us a chance to further amplify our services. We are recognized for our commitment to solidifying customer relationships by offering innovative and effective business solutions to our customers.
We are one of the fastest-growing IT consulting firms in North America
Innovation, commitment, and collaboration drive our consultants, strategists, engineers, creatives & developers to help companies thrive through edge-leading solutions in technology.
With the new competence program, Microsoft ensures the successful deployment of leading cloud business applications and associated services for customers through certified partners.
Only 10% of Microsoft Partners are given this acknowledgment for demonstrating exceptional ability to accelerate the digital transformation of their customers. Definity First is thankful for this honor.
About Definity First
We are a Gold Certified Microsoft Partner specializing in Cloud Business Applications & Microsoft Technologies. Definity First combines tech talent with extensive experience to implement effective enterprise-grade solutions powered by 17+ years of experience in the industry.